The English navigator Henry Hudson was known for sailing farther north than any European had previously as he searched for the fabled northern passage to Asia. He also explored the eastern coast of North America, establishing Dutch claims in the Hudson River Valley of modern New York State.
Little is known of Hudson's early life. In 1607, he was commissioned by England's Muscovy Company to search for a polar sea route to Asia. In the Hopewell, he and 11 men reached Spitsbergen Island and perhaps Jan Mayen Island before being driven back by ice floes. Encouraged by reports of abundant whale and walrus populations, the company outfitted a second voyage, in 1608, which reached Novaya Zemlya before once again being turned back by ice. Hudson's legacy, however, is based on discoveries during his third voyage, made in 1609 while he was in the pay of the Dutch East India Company. Sailing in the Half Moon, he led a crew of 20, exploring the eastern seaboard of North America between Maine and the Delaware River. The expedition also sailed up the Hudson River as far north as modern Albany, laying the foundation for the colony of New Netherland (later New York colony), founded as a permanent settlement in 1624. On Hudson's fourth voyage (1610–11), sponsored by English merchants, he discovered the immense, subarctic bay that today bears his name. Trapped by ice in St. James Bay, at the southeastern end of Hudson Bay, he and his crew endured enormous hardships over the winter. The crew mutinied, and on June 23, 1611, Hudson, his 12-year-old son, and seven other crewman were cast adrift in an open boat. They were never heard from again.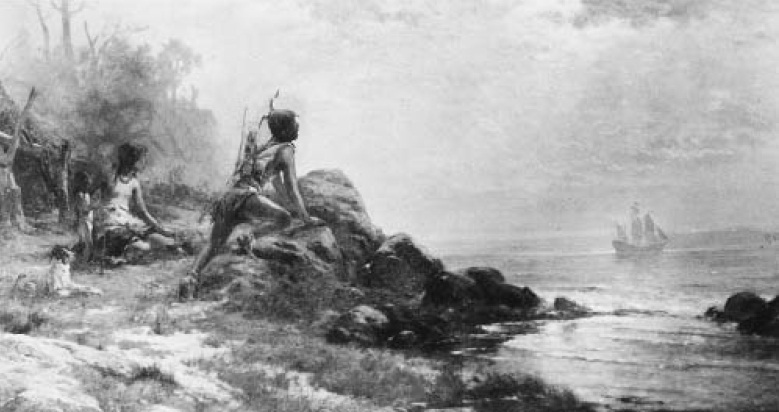 A romanticized view of American Indians first sighting Henry Hudson as he sails into NewYork Bay, September 11, 1609.After many years of fruitlessly searching for the Northwest Passage, Hudson was in the pay of the Dutch East India Company in 1609 when he established Dutch claims to the region of modern NewYork.
(Painting by Edward Moran, ca. 1908/Library of Congress, Prints & Photographs Division)